Anonymous 'TipsforJesus' Is 'Doing the Lord's Work' By Leaving Thousands of Dollars in Tips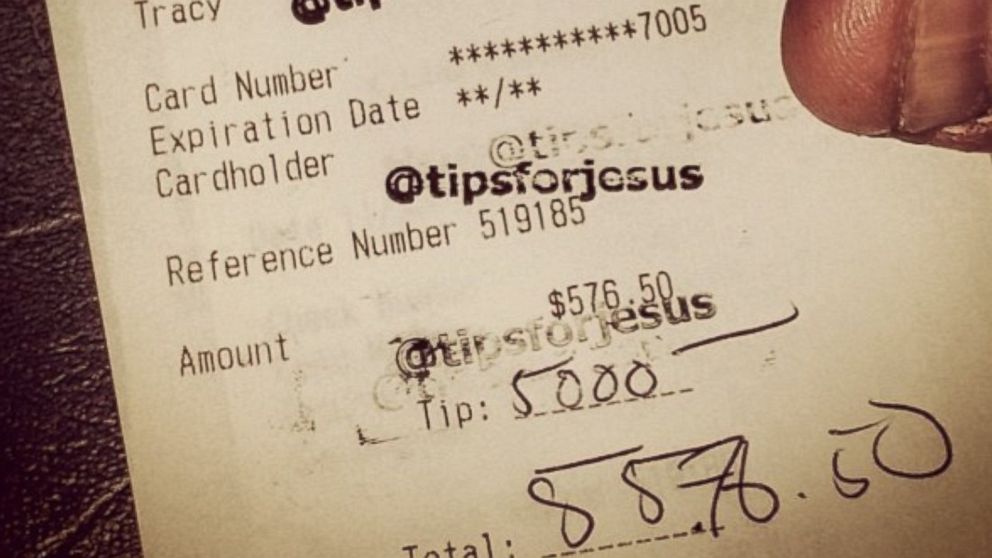 An anonymous person or persons armed with an AMEX Centurion card, a love for college football and an Instagram account is setting out to "do the Lord's work, one tip at a time," leaving thousands of dollars in tips to unsuspecting servers.
On Sept. 8, an @tipsforjesus Instagram account posted the first photo verifying its mission, capturing the image of a receipt for Bar Louie in Ann Arbor, Mich., where they left a $3,000 tip for an $87.98 tab. The account posted two more receipt photos the next day, one featuring a $5,000 tip, the other showing a receipt with a $7,000 tip held by a grinning man, confirmed to be the co-owner of Alley Bar in Ann Arbor. Both of the receipts were signed, "@tipsforjesus."
That same day, tipsforjesus also posted a screenshot of an ABC 4 Utah article about a "mysterious" tipper who left thousands of dollars in tips in Ogden, Utah, this August, with the photo description "#tipsforjesus."
The account has remained active ever since, continuing to leave tips of over $1,000 in bars and restaurants in cities like San Francisco and Chicago. And although tipsforjesus has received numerous comments of praise, and some of skepticism, the account has continued to keep its user's identity a secret.
The only clue that follows the generosity is the account's love of college football. The signed receipts consistently show up in college town establishments on game days and include sentiments such as "Fight On!" Restaurant employees who have received the tips in Ogden, Utah, and Ann Arbor, Mich., say the anonymous person uses an American Express Centurion Card, more commonly known as the Black Card.
But while keeping their identity secret, the account is still verifying the large tips through signed customer copy receipts (now being marked with an "@tipsforjesus" stamp), and recently, they posted a photo of their online account activity to clear up a controversy concerning a Notre Dame University restaurant, where they left over $10,000 in tips in one night, that have still not been distributed to their servers.
A Legends of Notre Dame server contacted them through Instagram, writing that she had waited on them on the day of a USC vs. Notre Dame game and never received their tip. Tipsforjesus wrote back, "AMEX got paid, you should've got paid. Check with Legends management… sounds like the owners are trying to screw you. Tipsforjesus pays it's tabs!"
They then posted the screenshot of their online statement, which confirmed the large amounts charged to the card, with the caption, "Let's be clear, the Legends of Notre Dame tips were processed by AMEX and paid. tipsforjesus pays it's tabs. God bless! @notredame Your move."
Tipsforjesus has posted little in the way of written explanations for their generosity, focusing only on photos of their tipping habits and leaving comments from inquiring news outlets unanswered. But that hasn't stopped the account's commenters, a large number of them wait staff requesting visits to their own establishments, from speculating about their reasons.
One Instagram user, @mrs_ewing_, who said their father works at Legends in Notre Dame and witnessed their large tipping wrote, "That was an awesome thing! It gives me some kind of hope in humanity for people."

Does prayer help us resist temptation? Talking to God boosts self-control and emotional stability, claims study
People turn to prayer 'as a coping response to the high demands in life' and are rewarded with an increased ability to resist temptation
Previous findings have shown that when people try to control their emotions, the risk of aggressive outbursts and binge drinking rises
By ROBIN YAPP
PUBLISHED: 10:56 EST, 29 November 2013 | UPDATED: 10:58 EST, 29 November 2013
Praying helps people stay in control of their emotions and behaviour, according to a new study.
People turn to prayer 'as a coping response to the high demands in life' and are rewarded with increased strength and ability to resist temptation, researchers said.
Previous findings have shown that when people try hard to control their emotions and thoughts, the risk of aggressive outbursts and binge drinking or eating rises.
Moment of reflection: People turn to prayer 'as a coping response to the high demands in life' and are rewarded with increased strength and ability to resist temptation, researchers said
BELIEVING IN GOD COULD HELP TREAT DEPRESSION TOO…
Belief in God may improve treatment for those suffering with depression, a study published earlier year found.
Faith in a higher being was found to significantly improve treatment for people suffering with a psychiatric illness, according to research carried out by McLean Hospital in Belmont, Massachusetts.
Researchers followed 159 patients over the course of a year at the Behavioral Health Partial Hospital program to investigate the relationship between a patient's level of belief in God, expectations for treatment and actual treatment outcomes.
Each participant was asked to gauge their belief in God as well as their expectations for treatment outcome on a five-point scale.
Researchers found that patients with 'no' or only 'slight' belief in God were twice as likely not to respond to treatment than patients with higher levels of belief.
And more than 30 per cent of patients claiming no specific religious affiliation still saw the same benefits in treatment if their belief in God was rated as moderately or very high.
But the latest study, by German psychologists at Saarland University and the University of Mannheim, found that praying helps people maintain self-control.
'A brief period of personal prayer buffered the self-control depletion effect', wrote the team, whose findings are published in the Journal of Experimental Social Psychology online.
'These results are consistent with and contribute to a growing body of work attesting to the beneficial effects of praying on self-control.'
Praying has already been linked in the past to reduced levels of infidelity and alcohol consumption.
The German authors recruited 79 people, of whom 41 were Christian, 14 atheists, 10 agnostic and 14 belonged to other religions.
Participants were each left alone for five minutes and asked to either pray or think freely about one thing as intensely as possible.
Next they all watched a funny film clips with half told to react normally and half required to try to suppress their emotions and control their facial reactions.
Finally, they took part in Stroop tests, where words describing colours appear in different coloured inks, such as the word blue written in red ink.
Previous findings have shown that when people try hard to control their emotions and thoughts, the risk of aggressive outbursts and binge drinking or eating rises
Participants must respond to the ink colour, not the written word, which requires self-control as our instinct is to read the word in front of us.
Those who thought freely in the first part of the test and then tried to suppress their emotions during the film clips were found to struggle with the Stroop task.
But this was not the case for participants who prayed at the start of the study – showing they still had high levels of self-control at the end.
The authors also found those who first prayed had tried just as hard to suppress emotions during the film clips 'but did not become depleted'.

Why There Are No Atheists at the Grand Canyon
All it takes is a little awe to make you feel religious
Any fool can feel religious around the holidays. When the entire Judeo-Christian world is lit up — literally — with celebrations of faith, family and love, you've got to be awfully short of wonder not to experience at least a glimmer of spirituality. The rest of the year? It can be a little harder.
But as generations of campers, sailors, hikers and explorers could attest, there's nothing quite like nature — with its ability to elicit feelings of jaw-dropping awe — to make you contemplate the idea of a higher power. Now, a study published in Psychological Science applies the decidedly nonspiritual scientific method to that phenomenon and confirms that the awe-equals-religion equation is a very real and powerful experience — even among people who fancy themselves immune to such things.
The study, conducted by professor of psychology Piercarlo Valdesolo of Claremont McKenna College in Claremont, Calif., and psychologist Jesse Graham of the University of Southern California, was actually five studies, all of which were designed to elicit feelings of awe in subjects and see how that affected their sense of spirituality. In all of the trials, subjects were primed with one of several types of video clip: a 1959 TV interview conducted by newsman Mike Wallace; light scenes of animals behaving in funny or improbable ways; or sweeping scenes of nature — mountains, canyons, outer space — from a BBC documentary. Some of the subjects were also shown more surreal, computer-generated scenes: lions flying out of buildings, a waterfall flowing through a city street.
The subjects were all then administered one or more questionnaires. One asked them straightforwardly, "To what extent did you experience awe while watching the video clip?" Another asked them to respond to questions about their belief in a universe that either does or doesn't "unfold according to God's or some other nonhuman entity's plan." Another asked them about their tolerance for uncertainty or ambiguity.
Valdesolo and Graham's working premise was first, that spirituality and belief in God are not fixed things. While atheists on the one hand and people of deep faith on the other don't move off their baseline positions much (though even they have periods of doubt), the rest of us are more influenced by experiences. Thus, the subjects who had felt more wonder or awe when they'd watched the grand or surreal videos would score higher on belief in a universe that proceeds according to a master plan than subjects who saw lighter or more prosaic clips. They would also score lower in their tolerance for uncertainty — and that was key.
All awe contains a slight element of fear or at least vulnerability, and the sooner we have an explanation for what it is we're seeing and how it came to be, the more reassured we are. Think how often we comfort a child who's just been frightened by something new and scary with an explanation like, "It's just thunder" or lightning or a blimp or a parade balloon. And think how often it works. We do something similar with ourselves when we seek a spiritual answer for things we can't otherwise explain.
"This is very much an intuitive relationship between an emotional state and a religious state," says Valdesolo. "We can make you feel awe and that's going to trigger your belief in the presence and power of a supernatural being." Valdesolo and Graham wisely sidestep any question about the validity of those beliefs. They could hardly prove the point one way or the other, and the issue was irrelevant to their work anyway. They were only looking at what does and doesn't elicit religious feelings — regardless of the legitimacy of them.
A final, very clever element of the study was to ask people who either had or hadn't been awed to look at several 12-digit strings of 1's and 2's and to guess, on a scale of one to 10, the likelihood that they were either randomly generated by a computer or designed by a human. The numbers were in fact computer generated, but the subjects who'd experienced awe were likelier to attribute them to a human.
"Awe makes people want to see events as the result of design," Valdesolo says. "That could be God or humans, depending on context."
If that's so however, couldn't the awe-inspiring also be explained by the random interplay of chemistry, physics and time — nature in other words — rather than a spiritual being? And if so, couldn't scenes of space or the Grand Canyon make you seek answers by becoming an astronomer or a geologist, rather than looking to religion? Maybe, but Valdesolo believes that's a less common reaction.
"The laws of nature do not seem to be what satisfies the sense of uncertainty that awe elicits," he says. "If I throw 10 people at the Grand Canyon and ask how many come away with a secular answer and how many come away spiritual, I'd tip the scales in favor of spiritual." Like it or not, awe trumps empiricism — and like it or not too, we'd probably be a poorer species if it didn't.
Categories:

Atheists, Christians, God, Grand Canyon, Jesus Christ, Prayer, The Bible
atheism, Atheists, Awe, Grand Canyon, religion, Signs and wonders